Lunchroom Information
For menus and general information, including the free & reduced lunch program, please visit the HCDE School Nutrition Page.
Free/Reduced Meals:
This is a reminder that if your student was receiving free or reduced meal benefits last year, the grace period for this year ends on September 18, 2014. If you have not turned in an application for this school year, please apply online at www.hamilton.schoollunchapp.com or with a paper application at the school office. If you have not received a letter confirming meal benefits, your student will be full pay.

Thank you!
Online Payment System:
To add money to your child's lunchroom account online, visit MyPaymentsPlus.Please note, while it is free to set up an account on this system, there is a small fee for paying online. You can also set up your account), to send you email notifications when your child's account is running low.
Click on the "Manage Account" link on that website to select notifications. You do not have to use the system's online payments to do this.
To set up an account there, you will need your child's student ID number, which is different from his/her lunchroom account number. The student ID number is listed on report cards and also available to parents by contacting the school.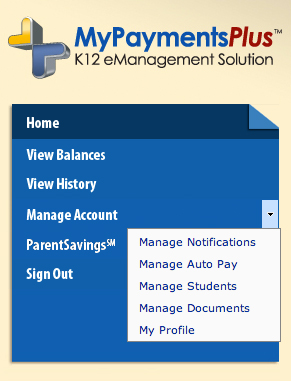 Lunchroom/School Onsite Payment System:
If you wish to avoid the fee by depositing money into the online service, then you may send in a check with your child (payable to "Big Ridge - HCDE" with child's name on the bottom of check), in an envelope with your child's name, the teacher's name, and marked "Lunch Money." The check may be given to your child's teacher, or the office, or the lunchroom.
Please make sure to write your child's name (first and last) on the check.
Please do not send loose coins, or cash that isn't sealed in a clearly marked envelope.
Thank you!
A La Carte Items:
Recent federal guidelines have changed regarding a la carte items. New federal guidelines regulates what schools can sell a la carte to all students. For more information check out the USDA's Smart Snack Flyer.
For a list of non-meal items and their prices available to elementary & middle schools,
please click
here
*.
*Not all items are available at every school.
Our School Policy on Birthday Treats:
We ask that you speak to your child's teacher before sending any food item. This is so we can monitor allergies. We ask that if the teacher approves that you send a healthy snack that is packaged - to verify ingredients- that can be given the last 10 minutes of lunch.